Xató Recipe – El Xató Les Receptes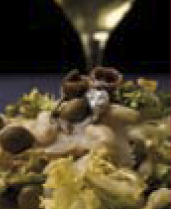 ENGLISH – FOR THE SAUCE Ingredients (4 people)
ALMOND 100g.

(2 handfuls)

HAZELNUT 100gr.

(2 handfuls)

PREVIOUSLY ROMESCO pepper scalded
(ONLY pulp) 1/2 bell pepper
PAN FRIED 1 llesqueta
5 cloves of garlic roasted pieces
Raw garlic 1/2
Tomatoes 2 pieces
OIL 250 gr.
VINEGAR TO TASTE
SALT
WHITE PEPPER
Paprika
Ingredients FOR THE PLATE (4)

Endive 2 pieces
120 g cod.
Tuna 120 gr.
4 anchovy fillets steaks
80 g olives
Preparation
Take a mortar, they were put salt and mash at a time, and in this order, almonds, hazelnuts and garlic, until a very fine paste. Then add pepper romesco, fried bread, paprika and white pepper.Finally, tomatoes, oil and vinegar. Once the sauce is mixed with escarole clean and well drained.Let stand a few hours. When serving the dish is decorated with cod, tuna, anchovy fillets and olives.And you can eat, always accompanied by tortillas artichokes, beans or black pudding, among others.
CATALAN -Ingredients PER A LA SALSA (4 persones)
AMETLLES 100 gr. (2 grapats)
AVELLANES 100 gr. (2 grapats)
PEBROT DE ROMESCO PRÈVIAMENT ESCALDAT
(SOLS LA POLPA) 1/2 pebrot
PA FREGIT 1 llesqueta
GRANS D'ALL ESCALIVATS 5 peces
ALL CRU 1/2
TOMACONS 2 peces
OLI 250 gr.
VINAGRE AL GUST
SAL
PEBRE BLANC
PEBRE VERMELL DOLÇ
Ingredients PER AL PLAT (4 persones)

ESCAROLES 2 peces
BACALLÀ ESQUEIXAT 120 gr.
TONYINA 120 gr.
FILETS D'ANXOVA 4 filets
OLIVES ARBEQUINES 80 gr
Elaboració
S'agafa un morter, s'hi posa sal i es van trinxant d'un en un, i en aquest ordre, les ametlles, les avellanes i els alls, fins a aconseguir una pasta ben fina. Tot seguit, s'hi afegeix el pebrot de romesco, el pa fregit, el pebre vermell i el pebre blanc. Finalment, els tomacons, l'oli i el vinagre. Un cop acabada la salsa es barreja amb l'escarola ben neta i escorreguda. Es deixa reposar unes hores. A l'hora de servir el plat es decora amb el bacallà esqueixat, la tonyina, els filets d'anxova i les olives arbequines. I ja es pot menjar, sempre acompanyat de truites de carxofes, de fesols o de botifarra negra, entre d'altres.
SPANISH – Ingredientes PARA LA SALSA (4 personas)
ALMENDRAS 100 gr.

(2 puñados)

AVELLANAS 100 gr.

(2 puñados)

PIMIENTO DE ROMESCO PREVIAMENTE escaldado
(SOLO LA PULPA) 1/2 pimiento
PAN FRITO 1 rebanadita
DIENTES DE AJO asados ​​5 piezas
ALL CRU 1/2
Tomates 2 piezas
ACEITE 250 gr.
VINAGRE AL GUSTO
SAL
PIMIENTA BLANCA
PIMENTÓN DULCE
Ingredientes PARA EL PLATO (4 personas)

Escarola 2 piezas
BACALAO DESMIGADO 120 gr.
ATÚN 120 gr.
FILETES DE ANCHOA 4 filetes
ACEITUNAS ARBEQUINAS 80 gr
Elaboración
Se coge un mortero, se pone sal y se van triturando de uno en uno, y en este orden, las almendras, las avellanas y los ajos, hasta conseguir una pasta muy fina. A continuación, se añade el pimiento de romesco, el pan frito, el pimentón y la pimienta blanca. Finalmente, los tomates, el aceite y el vinagre. Una vez terminada la salsa se mezcla con la escarola bien limpia y escurrida. Se deja reposar unas horas. A la hora de servir el plato se decora con el bacalao desmigado, el atún, los filetes de anchoa y las aceitunas arbequinas. Y ya se puede comer, siempre acompañado de tortillas de alcachofas, de frijoles o de morcilla, entre otros.
Tweet